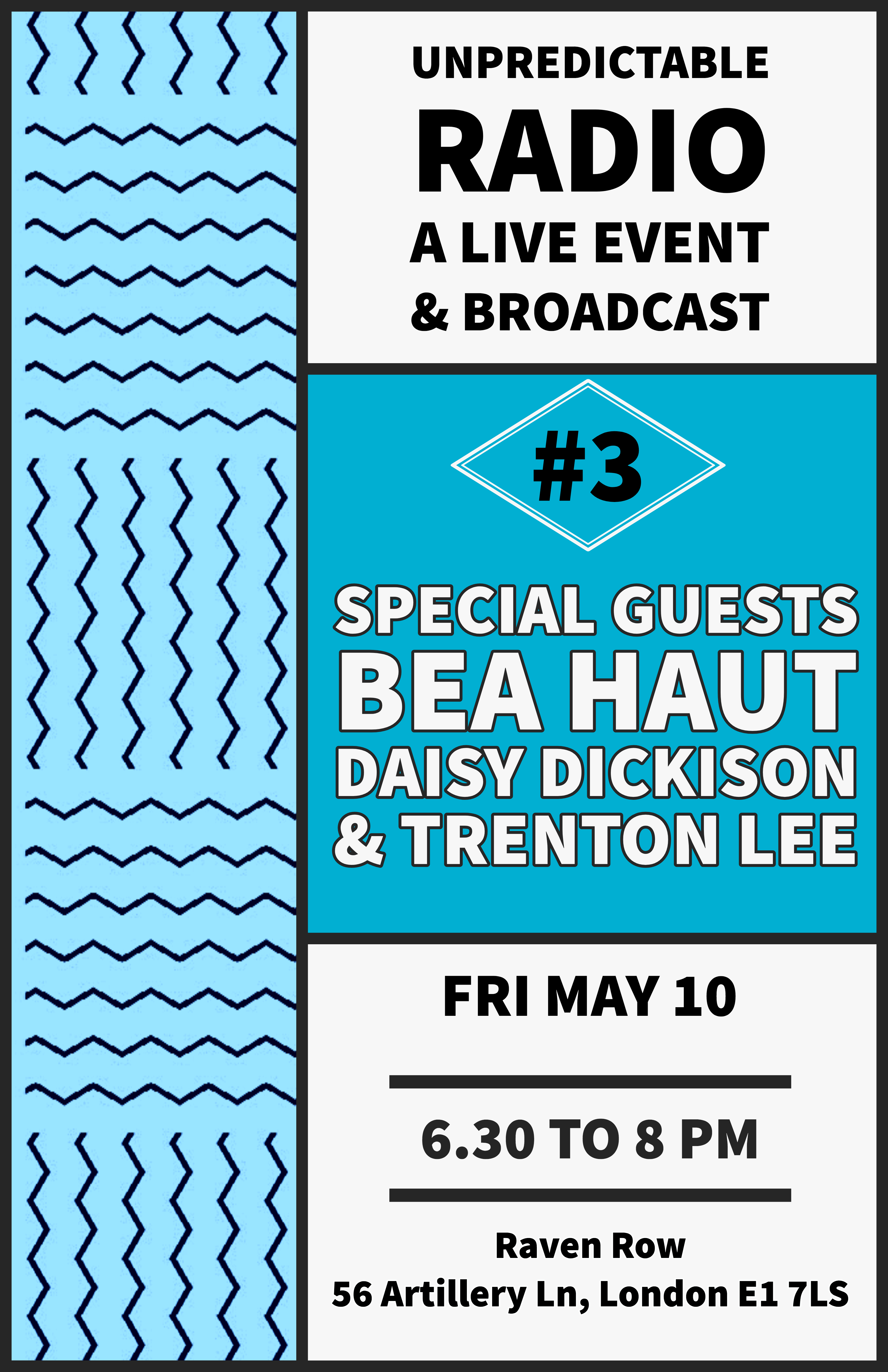 Unpredictable Radio #3
UNPREDICTABLE RADIO: A LIVE EVENT AND BROADCAST – PROGRAMME #3 Watch our lastest Unpredictable Radio #3 featuring Bea Haut, Daisy Dickinson, Trenton Lee and Steve Beresford. Unpredictable Radio is dedicated to sound art, improvised music, film and experimental art forms, presented in front of a small audience at Raven Row, London. This edition was presented by Pierre Bouvier Patron and Matthias Kispert focusing on experimental film and social art. Our guests: Bea Haut is an artist who works mainly with16mm film her work alludes to perceptions of inter-related moments, spaces, and actions in between. Regarding the mutating dialogue between the self and her surroundings, the artist also uses the stuff of the everyday as material and subject of these works. During the 90s she worked with Loophole Cinema, and recently has been producing Analogue Recurring, a 16mm screening event in London. She is a co-founder of Film in Process which is an artist-run service for B&W 16mm process and print in the UK. Her films have been shown internationally in festivals such as Media City Film Festival, Edinburgh International Film Festival, Experiments in Cinema, Alchemy and at venues such as the Museum of Moving Images, New York and the ICA, London Daisy Dickinson is a London-based director/visual artist whose work involves experimental short film, music video, projected installation and live visual performance. She is one half of audio/visual collaboration 'Adrena Adrena' with ex-Boredom's drummer E-da Kazuhisa and has worked as a visual addition to other artists such as Seefeel, Toy, Grimm Grimm, Snapped Ankles and Samuel Kerridge. Dickinson's visuals have been described as 'magmatic and sulphurous, cosmological and transcendental, drawing attention to the wonder of the earth and our sensuality on it'. She has performed at various festivals and venues across the UK and Europe such as End of the Road Festival, Supernormal, Zorofest in Leipzig, The ICA in London and CERN in Geneva and completed tours around the UK, Europe, Japan and Taiwan. Trenton Lee is an academic, teacher, photographer, digital un-native, and optimistic pessimist. He is curently doing a PhD at University of Westminster.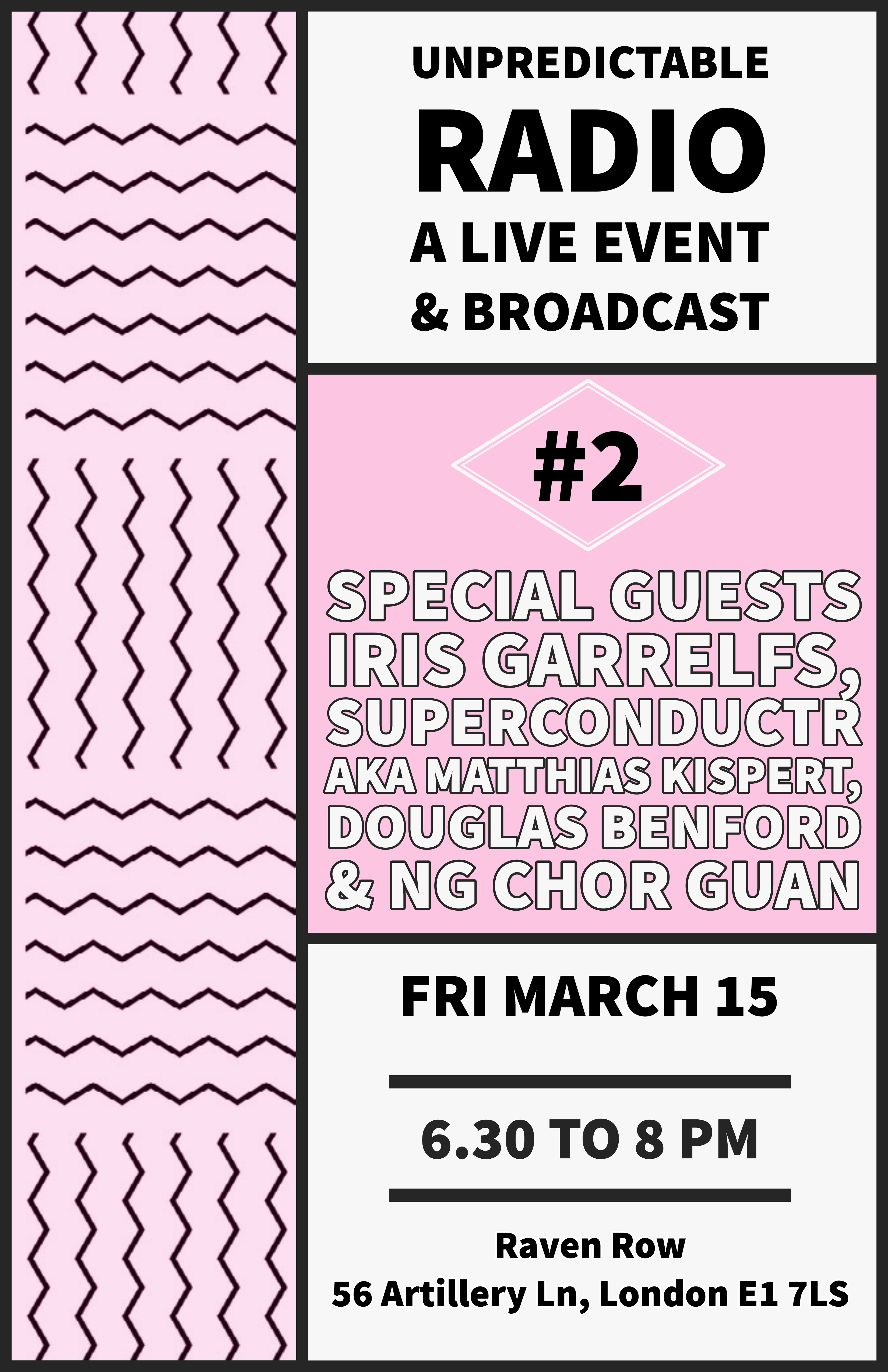 <iframe width="560" height="315" src="https://www.youtube.com/embed/ZttuYWHGMoE" frameborder="0" allow="accelerometer; autoplay; encrypted-media; gyroscope; picture-in-picture" allowfullscreen></iframe>
Unpredictable Radio #2
UNPREDICTABLE RADIO: A LIVE EVENT AND BROADCAST – PROGRAMME #2
Unpredictable Series is taking over Raven Row, presenting Unpredictable Radio in a series of 4 live-streamed events! Unpredictable Radio is dedicated to sound art, improvised music and experimental art forms, presented in front of a small audience. Each programme will focus on a specific subject that will be investigated between interviews and live acts.
On Friday the 15th of March
we will look at the work of Iris Garrelfs, superconductr aka Matthias Kispert, Douglas Benford. & Ng Chor Guan. This event is public and you attend it by purchasing a ticket. Very limited space available and online booking necessary. Programme #2 will be live streamed on our website
www.unpredictable.info
from 18.30. Our guests: – Iris Garrelfs works on the cusp of music, art and technology across improvised performance, multi-channel installation and fixed media projects. She is interested in the relationship between listening to and reflecting on our world. She often uses her voice as raw material. Her work has been presented nationally and internationally, including Tate Britain, National Gallery London, Royal Academy of Arts (London), fruityspace (Beijing), Palazzo delle Esposizioni (Rome), MC Gallery (New York), Transmedia Borders (Mexico). Residencies have included Grizedale Art, Institute of Modern Art Celje (Slovenia), Onassis Cultural Centre (Athens). Garrelfs lectures in Sonic Art at Goldsmiths, University of London where she also co-heads the Sound Practice Research Unit. She also edits the open access journal Reflections on Process in Sound.
http://irisgarrelfs.com/
– Matthias Kispert aka Superconductr is an artistic research project into conditions of on-demand labour distributed through digital platforms. superconductr's work involves interventions that utilise the functionalities of existing digital labour platforms, participation in activism for precarious labour rights, and theoretical investigations. The name superconductr refers to Michel Foucault's description of power as the conduct of conduct, which here also takes into account conduction as the transmission, control and mining of data streams in networks that facilitate the capture and extraction of human labour power. superconductr is a project by artist Matthias Kispert.
www.superconductr.org
– Douglas Benford As a composer and sound artist, Douglas has been involved in various audio genres since the late 1980s, performing at many institutions/venues in the UK (Bristol's Arnolfini, London's Science Museum, Cafe Oto, Tate Modern, The Roundhouse, ICA and Glasgow's CCA), festivals worldwide (eg Mutek, Synch, Transmediale) and had installation work in numerous UK galleries (Inc. London, Swansea, Gloucestershire and Essex). After many electronica releases in his 'si-cut.db' and other guises, in the past decade, he has focused on acoustic improvisation and installations, using field recordings, classical instruments, vocals and children's toys. As well as often playing with the London Improvisers Orchestra and Confront Recordings / Mark Wastell's The Seen collective, his regular collaborators include poet Tamar Yoseloff, Angharad Davies, Lina Lapelyte, Adam Bohman, Clive Bell, Sue Lynch, sculptor Rob Olins, as well as – in the past – pop group Saint Etienne, Jem Finer (The Pogues), Momus, Rod Thomas (Bright Light Bright Light), Scanner, Stephan Mathieu. He was also co-curator with Iris Garrelfs, established in 1996, of Sprawl experimental audio events in London for over 12 years.
http://douglasbenford.org.uk
– NG CHOR GUAN Artist/ Composer /Thereminist /Creator /Theatre-Maker /Cyclist /Artistic Director of Toccata Studio Guan is a prolific artist whose diverse body of work is rooted in the contemporaneous currents of technology and proves to transcend categories in the performing arts. His most recent project with Toccata Studio, titled '2020', is a project five years long: a multidisciplinary performance powered by the concepts of multiple futures and time travel, 2020 is both a meditation on the future and an active progression into the future.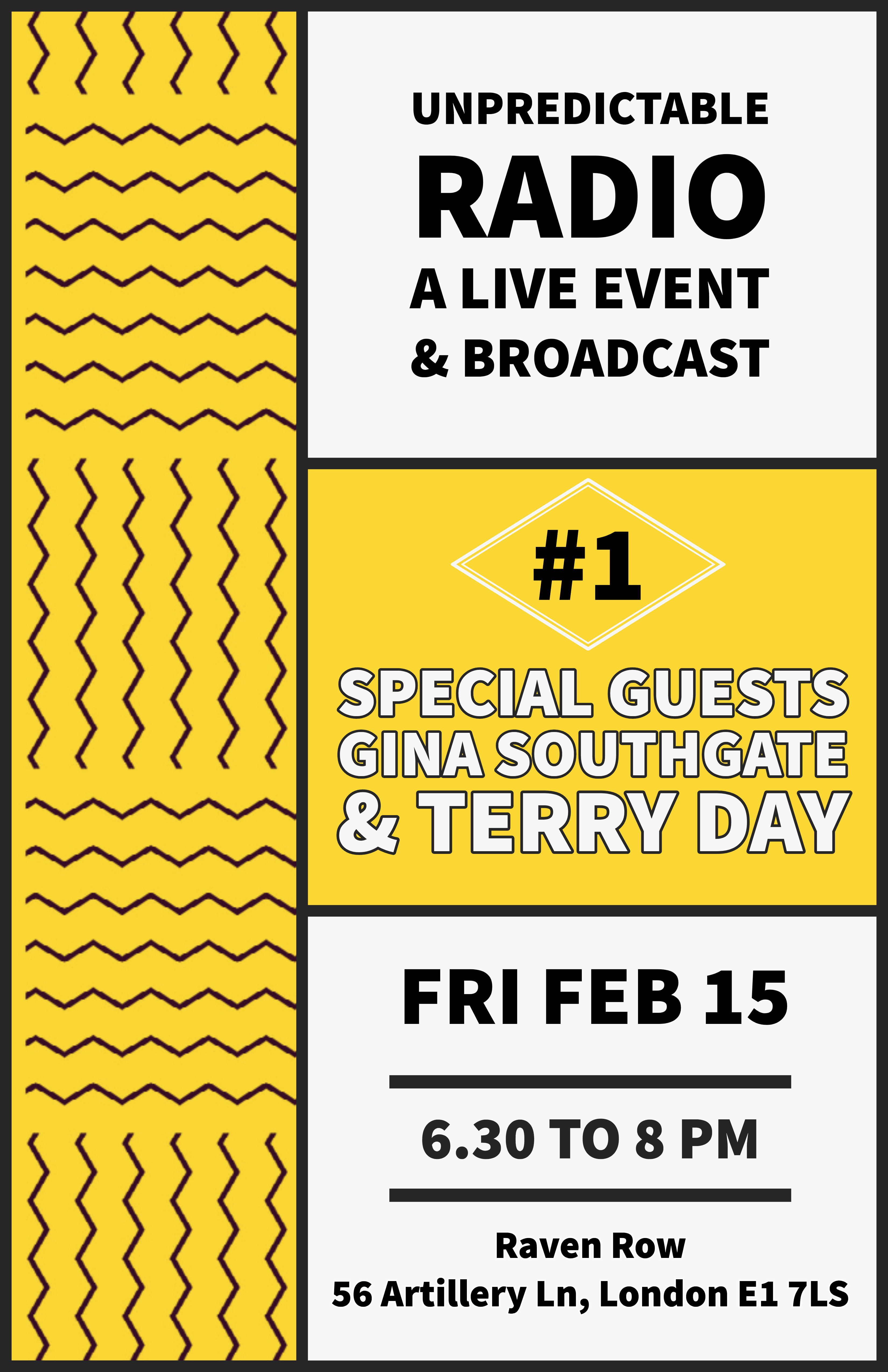 Unpredictable Radio #1
Unpredictable Radio is dedicated to sound art, improvised music and experimental art forms, presented in front of a small audience. Each programme will focus on a specific subject that will be investigated between interviews and live acts. This Friday we will look at directed improvisation. Programme #1 February the 15th, 2019 recorded in Raven Row London The Unpredictable Radio team is hosted by Blanca Regina and Steve Beresford. On the controls Pierre Bouvier Patron and Allesandro Vangi OUR GUESTS: Gina Southgate is best known for painting/performing on the British jazz and free improv music scene where for 3 decades she has captured the frisson of live music during the real-time of performance. She works in an international arena, at gigs and festivals, the resulting imagery is used in music graphics and for press purposes; site and stage decoration. As well as live observational painting, she performs audio-visually using her materials and tools in duo or group situations with improvising musicians. She has collaborated with, exhibited at, and been resident artist for; Somethin'else, Jazz on 3, Vortex Jazz, Jazz in the Round, Jazz North East, Gateshead International Jazz festival, In Harmony, Kings Place, Rich Mix, Alterations, Match and Fuse, Lume UK. In Europe at Jazzahead!, Germany and Konfrontationen Festival. https://artistginasouthgate.weebly.com Allan Wilkinson was a visual artist before he was a musician. He moved from Manchester to Leeds in 1975 in order to pursue a degree in fine arts with a concentration on painting. After graduation, he began playing the alto saxophone. He joined the group Crow, which also included drummer Paul Hession, who would become Wilkinson's longtime associate. After touring Belgium and Holland with the band, Wilkinson decided to give up painting in favor of music. In 1979, Wilkinson formed a band and began experimenting with other instruments — mainly percussion — and integrating composition with improvisation. In 1982, he attended a summer music school in South Wales, where he would come into contact with such prominent musicians as Peter Brötzmann, Barry Guy, Fred Van Hove, Keith Tippett, and Phil Wachsmann. Soon afterward, Wilkinson began playing gigs on the London free improv scene. He played in a trio with Hession and pianist Akemi Kuniyoshi; he also collaborated with drummer Steve Hubback on a number of projects. In 1983, he appeared in duo with Hession at the tenth annual Free Music Festival in Antwerp and at the Holland Art Initiative in Eindhoven. That year, he also helped organize the Termite Club in Leeds, a venue for the presentation of experimental music and other performing arts. In 1985, Wilkinson joined the Ubiquity Orchestra, a large improvising ensemble. From 1985-1988, he played in a trio with Steve Noble and Tony Moore, and from 1987-1989 with a quartet that included Willi Kellers, Christoph Winckel, and Alex Maguire. Like most English improvisers of note, Wilkinson has participated in Derek Bailey's Company Week activities; Company collaborators have included Barre Phillips, Ernst Reijseger, Don Byron, Ikue Mori, and Phil Minton, to name a few. In the '90s, Wilkinson's most significant association was a trio that also included Hession and bassist Simon Fell. The band formed when Fell joined the longtime Hession/Wilkinson duo in 1989. It continued to perform and record during the '90s. In 1996, the band recorded with guitarist Joe Morris, performed with Bailey at the Termite Festival, and played several dates with Brotzmann and Kellers. In 2000, the band recorded for the Ecstatic Peace! label http://www.efi.group.shef.ac.uk/mwilkins.html Terry Day is an improviser, multi-instrumentalist, lyricist, songwriter, visual artist and poet. He is a 'first generation' pioneer improviser from the 1960s. A self-taught musician in a family of musicians, he began improvising on the drums with his brother in 1955. In the early 1960s he formed the Hardy Holman Day trio focusing on free improvisation. Later he became part of Kilburn & the Highroads, a band led by Ian Dury. Sharing their interest in visual art and painting, Terry and Ian both studied at Walthamstow School of Art and later at the Royal College of Art, London. As an art student in the 1960s he was a pioneer of improvisation, free jazz & experimental music. Day also formed a duo with Derek Bailey in the late 1960s and was a regular member of The Continuous Music Ensemble, later known as The People Band. Since then he has collaborated with many musical luminaries, groups, dancers, painters, poets and performed in theatre, events, and rock & roll. terryday.co.uk